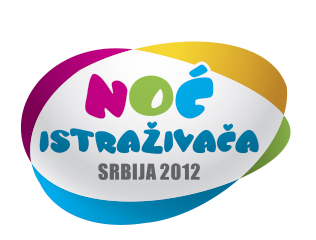 Researchers' Night project
Researchers' Night is the biggest and most entertaining way to promote science and scientists in the world. The project was launched in 2005 at European level with an aim of providing an amusing and educational promotion of scientists' work and life in order to demystify science as a "bogey" subject that only a few choose to get involved with. The project was held on 28 September 2012 in a number of cities across Serbia including Novi Sad, Belgrade, Niš and Zrenjanin. Like hundreds of thousands of people across Europe, the residents of these cities together with their guests had a unique opportunity to meet researchers, communicate with them, have fun and learn something novel during the programme.
Project Information
Grant agreement: FP7 European Commission programme, Marie Curie subprogramme
Project Duration: 05/2012 – 12/2012
Project Website: nocistrazivaca.rs
Contact: Dobrivoje Lale Erić dleric@cpn.rs
Coordinator
University of Novi Sad, Faculty of Technical Sciences
Partners
Faculty of Science and Mathematics, University of Novi Sad
Technical college of vocational studies in Zrenjanin
Creative Educational Center Novi Sad
Science Festival, Belgrade
Institute "Mihailo Pupin", Belgrade
Center for the Promotion of Science
Project Description
The realisation of the project is divided into three phases: awareness raising campaign, realisation of the event itself and project's subsequent evaluation. The campaign involves visits to primary and secondary schools, universities, TV and radio stations, and also sets up public performances in various cities, all this with an aim of conveying the main message: the scientists are doing an intriguing, innovative and socially beneficial job! The central part of the project is focused on the Researchers' Night itself; a one-day spectacle which is held on the same day throughout Europe. This year, the theme of the Researchers' Night in Serbia was: Falling in love with science. For this purpose, the activities were organised in a way that show through metaphors of various stages of "falling in love" (first encounter, first kiss, first date, etc.), the main areas for this year's programme: energy and environment, innovation and ideas, health and safety, food and water.
The Role of CPN
The primary role of the Center in its first international project was to organise program activities during the Researchers' Night in Belgrade. This was delivered within the larger framework of the national event called "Days of the Future: Robotics". Along the pedestrian Knez Mihailova street, the Center set up special exhibits and contents in order to highlight the main theme of the 2012 Night  The energy of the future! In addition, some of the most advanced robots from Serbia and abroad were exhibited here, while interactive workshops offered the participants an opportunity to assemble electric motors, robotic arms and even the whole robots!