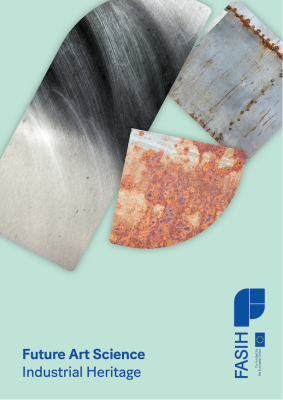 FASIH − Future Art and Science Industrial Heritage
The FASIH project focuses on the interdisciplinary art and science research of the industrial and cultural heritage by detecting, exploring and evaluating architectural achievements and intangible processes that have marked modern history of Belgrade, Rijeka and Trbovlje. FASIH is a regional cooperation that, in conjunction with scientific research and new media, seeks to connect contemporary models of revalorisation and revitalisation of the industrial heritage. Using IT and novel technological tools, the project aims to provide new approaches to promoting the value of the cultural, scientific and industrial heritage of the region, shared in the context of a global, sustainable European future.
Project Information
Source of funding: EU Programme Creative Europe
Project duration: 02/2023 − 07/2025
Project Website: under construction
Contact: Dobrivoje Lale Erić – dleric@cpn.rs
Coordinator
Center for the Promotion of Science, Serbia
Partners
Museum of Science and Technology, Serbia
University of Rijeka, Croatia
Academy of Applied Arts Rijeka, Croatia
Natural History Museum Rijeka, Croatia
Cultural Center Delavski dom Trbovlje, Slovenia
Project Description
FASIH is focused on developing new approaches for the revitalisation of industrial heritage in the South-East Europe, namely in Serbia, Croatia and Slovenia. The project consortium will design its own methodology intended for the development of interdisciplinary collaborations and the productions of new media art-science products in the domain of industrial heritage. Project centers on the innovative co-creative framework rooted in technology and sustainability.
Innovation is one of the primary objectives of the project, which will be achieved by using the recent technologies and new-media formats, such as XR, VR, AR, 3D printing and others. The development and experimentations will emphasise equally important environmentally friendly practices in order to reach a high sustainability level. This will be achieved through awareness-raising, sharing of both knowledge and good practices, and developing innovative ways of tackling environmental challenges.
FASIH is a socially inclusive platform as well, made up of institutions, associations, students, artists, citizens and experts from both natural and technical sciences, and humanities. Through transforming the heritage into a digital artistic narrative, project outcomes will become accessible to a much broader audience. The final year of the project will be marked by three simultaneous exhibitions in Belgrade, Rijeka and Trbovlje, and with a closing conference at the University of Rijeka.
The Role of CPN
The Center for the Promotion of Science is the leading entity of the FASIH, in charge of the overall coordination during two and a half years of project's existence. The CPN also leads the communication and dissemination of the project, securing adequate visibility of the project activities, methodology and results. The Center will also develop two art+science productions that will be presented at the final FASIH exhibition.